Yoga Workshops
If you are interested in hosting me to teach an exciting comprehensive yoga workshop, I would love to hear from you. Please contact me directly.
You may choose from the yoga workshops below, or I can create an event especially for you. I look forward to collaborating with you!
Yoga For Balance: Discovering Your Courage
It takes a fearless heart to tackle balancing poses. Yet that may be their greatest benefit to your yoga practice: they develop courage. And as you begin to master them, balancing poses also build strength and confidence, qualities that you can take—along with courage—off the mat and into your daily life.
In this fascinating fun 2 & 1/2 hour workshop Ricarda will give you the tools you need for balancing poses:
We begin with the breath
Set Intention
Awaken and heat up your core
Deepen into asanas to prepare the limbs and trunk for balancing
Move into standing balances and arm balances
Balances we'll explore may include bakasana (crow pose), tolasana (scales), garudasana (eagle pose), ardha chandrasana (Half Moon Pose), virabhadrasana III (warrior three), adho mukha vrkasana (handstand),tittibhasana (firefly pose), vasisthasana (side plank), and natarajasana (dancer pose).
Ricarda gives clear specific instruction on the technique for each pose, along with ways to customize the pose to suit your level of practice and/or your body's unique requirements. For each asana, she teaches you counter-poses and complementary stretches to unwind the muscles and realign the bones. At the end of the practice we'll finish with a luxurious deep relaxation.
Everyone is welcome at this workshop, whatever you level of practice. Just bring your mat and your curiosity. You will leave informed, satisfied, and empowered. And filled with courage.

Yoga for Purification
Yoga strengthens, stretches and tones your muscles and bones. Did you know that it can do the same for your internal systems? That you can use your practice to purify your body and maximize your health? You know you feel better when you finish yoga practice. This workshop shows you why.
Yoga for Purification is a rejuvenating "spring cleaning" for body, mind and spirit. As Ricarda guides you through this comprehensive, lively, sweaty class, you will learn which poses and breath…
Release toxins
Increase the flow of vital energy (prana
Rev up your metabolism
Improve digestion
Balance the endocrine system
Harmonize the nervous system
Stimulate the immune response
Elevate mood
Banish Insomnia
Yoga for Purification is 2 & 1/2 hours long. By the end of the workshop your mind will be clear and calm, your energy bright and your body refreshed. Most important, you will have a deeper understanding of the asanas and breath work, and how to use them for complete well-being.
This workshop is open to all levels. Bring a large bottle of water, your mat, a small towel, and a healthy snack for after we've finished. To get the most out of the workshop, eat lightly and not less than two hours before we start.

Breath of Life: The Art of Pranayama
One of the most immediate ways to shift consciouness and restore your body and mind is by mastering your breath. Indeed, the Sanskrit word "prana" is defined both as 'vital energy' and 'breath'. Yet most of us have no idea how to control the way we breathe, or appreciate how much better we would feel by taking the time to do so.
The breathing techniques laid forth in yoga are an excellent method for training the breath. Called Pranayama, these classic exercises not only teach you how to breathe correctly but also how to regulate your breath. In doing so you become more aware of your unique energy system. You learn to notice when you are "off," and can then use your breath to move quickly into a healthier balanced state.
This introductory two-hour workshop includes:
Anatomy of the respiratory system
How biochemistry changes during pranayama
The chakras and nadis
Preparing the body and mind for pranayama
Specific pranayama exercises and their effects
In Breath of Life, Ricarda covers the essential basics of pranayama, but also delves into the more subtle aspects of the art. So whether you are a beginner or a seasoned yogi, this workshop delivers information and skills that you can use both in yoga class and in your daily life. With this workshop Ricarda empowers you to take charge of your breath so you can then raise your vital energy to its optimum vibration.

Ongoing Events
Gong Sound Bath
A gong sound bath restores the harmonic field of the body. The sound waves emanating from the gongs come in through your ears but also move through your body, gently guiding you into deep relaxation. Highly meditative, the gongs recalibrate and rebalance the body, mind and spirit, raising your vibration and returning you to your essential resonance.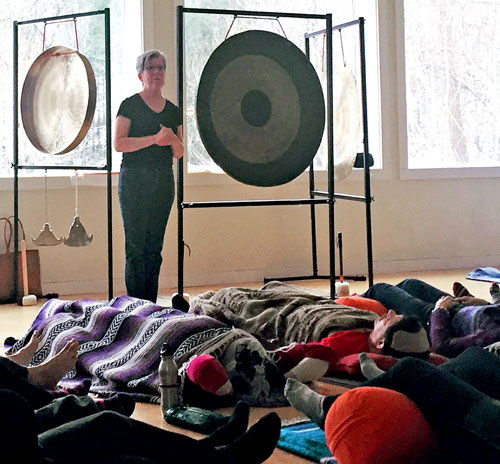 For this group event, you will lie down on comfortable mats, close your eyes, and simply let the sound wash over you. Comfortable clothing is suggested. Please bring a blanket and pillow, and an optional eye-covering.
Ricarda's Gong Sound Baths are currently held at:
River Pilates in Hudson, NY (http://www.riverpilatesny.com / 518-965-5312)
Catskills Yoga House in Chichester, NY (http://www.catskillsyoga.com / 802-578-7869)
Sage Center for the Healing Arts in Woodstock, NY (http://www.sageacademyofsoundenergy.com/sage-academy–center.html / 845-679-5650)
Meditation, Intention and the Zero Point Field: Tuning Up Your Frequencies
In their search for what powers the universe, quantum physicists have discovered what they call the Zero Point Field—a state of timelessness and possibility where anything can change or happen. A state of Grace.
Some of these scientists have proven that human consciousness interacts constantly with the Zero Point Field, and that mindful intention really does influence what happens to us, to our loved ones, and to the world around us.
We all have the ability to create transformation. The question is, how can we access that ability with ease and accuracy?
In Meditation, Intention and The Zero Point Field, Ricarda takes you on a lively exploration of consciousness and intention: how to set it, release it, and hold space for it to manifest. You'll learn how to drop down and tune in, helping you focus your unique frequencies and increasing your potential to create positive change.
The workshop is two hours long. A background in meditation or prayer is helpful but not necessary. Anyone can benefit. Everyone is welcome. Bring water and an open mind. That's really all you need.
The workshop is held the second Sunday of every month, from 2 to 3:30pm, at the Sage Center for the Healing Arts, 6 Deming Street, Woodstock, NY 12498 (in the Woodstock Yoga studio). The cost is only $20. To save your space, register with the Sage Center by phone (845-679-5650) or email.

Health Care is a Human Right: Free Holistic Health Care Clinics
I am a long-time volunteer practitioner for Health Care is a Human Right, Inc., (HCHR), a 501c3 charitable organization committed to bringing quality holistic wellness care to all, regardless of socio-economic status or ability to pay.
HCHR operates ongoing holistic clinics in Woodstock, NY, Phoenicia, NY, and Kingston, NY in the Mid-Hudson Valley region of New York State. We do not charge for services. Everyone is welcome. All clinics are walk-in, no appointments are necessary.
The heart of our clinics is a dedicated volunteer staff of expert practitioners who offer treatments in a wide range of holistic modalities including acupuncture, massage, homeopathy, chiropractic, hypnotherapy, sound therapy, Feldenkrais, Matrix Energetics, and Reiki, among many others.
For more information about HCHR, or to see the schedule of clinics, go to the website.

Upcoming Events
"Jupiter Direct"
A solo performance to benefit the restoration of the Phoenicia Playhouse.
The concert will be held at the Phoenicia Playhouse, Church Street, Phoenicia, NY 12472.
Saturday, August 12th 2017 at 8:00 pm.
Ticket price:$20. Online sales: http://PhoeniciaPlayhouse.com
Tickets can also be purchased at the theater before the concert.
All proceeds will go to the Playhouse Building Fund.
Gift Certificates
I now have beautiful Gift Certificates available for all services. If you'd like to purchase one (or more), just email or call me. I can deliver them to you, or pop them right in the mail to your recipient.